---
---
Scheduling Your COVID-19 Test Without A Lab Order from Your Provider
If you do not have a COVID-19 Lab Order confirmation code from your provider, click here to schedule your COVID-19 Test by following the prompts on the screen.
---
Scheduling Your COVID-19 Test With A Lab Order from Your Provider
Use the step by step instructions below or click here for a PDF version of the Scheduling Your COVID-19 Testing Appointment: Starter Guide
Once the ordering provider has submitted your lab referral to CRISP, you will receive an email and a text message with your confirmation code and a link to schedule your appointment.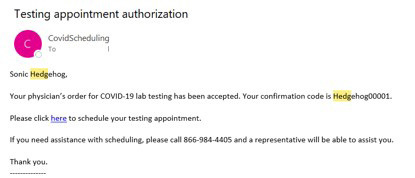 Confirm contact information then click "Continue".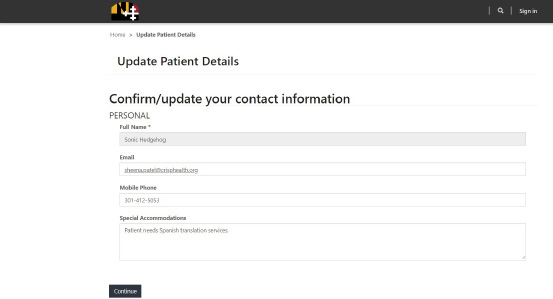 Select the desired testing site by clicking the site name at the top of the screen. There, you will be able to view how many appointments are available for that site.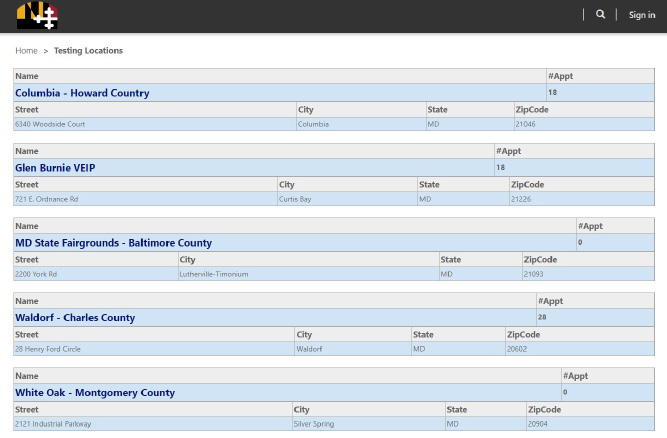 Select the desired appointment time by clicking "Select" within the "Booking Link" column. Click "Previous Day" or "Next Day" to browse calendar.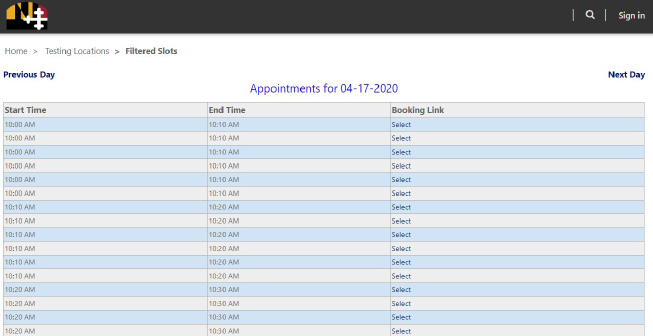 Confirm your appointment information then click "Book".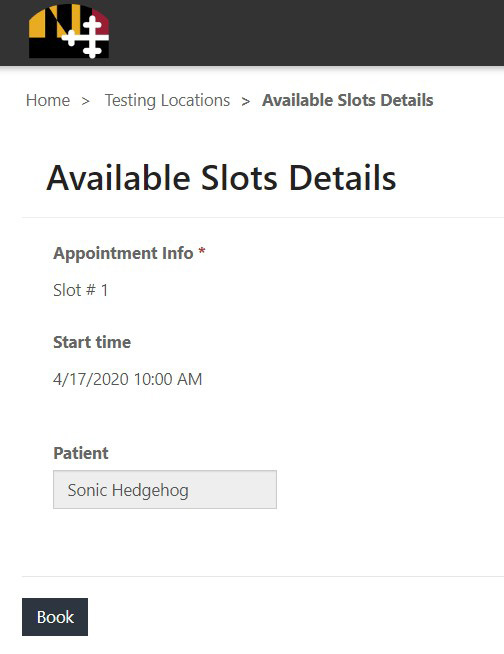 Confirm your appointment information then click "Book".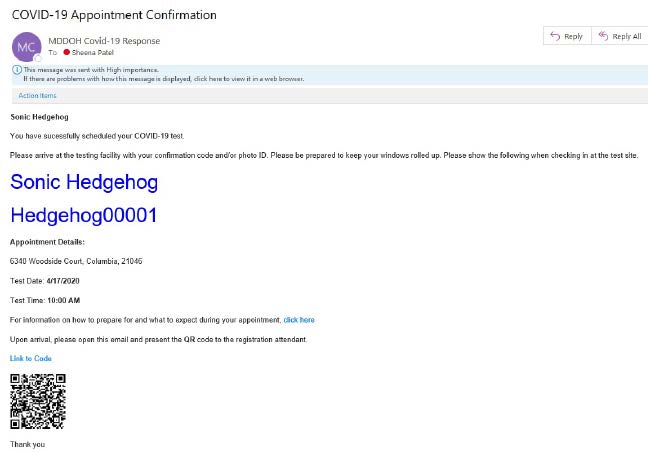 Please contact the COVID-19 Scheduling Center at 866.984.4405 if you are experiencing any of the following issues:
I did not receive my order confirmation code.
I do not have an email address.
I am having trouble scheduling my appointment.
I would like to change or cancel my appointment
I am having an issue not listed above.
---
What to Expect
These sites are for sample collection from symptomatic patients (fevers, chills, cough, or shortness of breath) who are at high risk for complications from COVID-19 disease. Testing will be provided to individuals regardless of their ability to pay, type of health insurance, or participation in any particular provider network. Individuals must have a lab order submitted by a healthcare provider and an order confirmation code in order to schedule their COVID-19 test at a VEIP location. People who do not have symptoms or who have mild symptoms do not need to be tested and should follow home isolation guidance.
---
Patients Must Have:
A scheduled appointment, if required by the testing site.
Proof of identification:
Photo identification/driver's license
United States passport
Social security card
---
Upon Arrival, Patients Should:
Keep windows up and have identification ready for appointment verification.
Follow road signs to the intake/registration area.
Provide identification through the window at the first checkpoint. Intake/registration staff will verify provider order, site location, appointment time, and any special accommodation that has been requested.
Allow intake/registration staff to mark windshields. A requisition and label with patients' information will be placed under the windshield wiper.
Remain in vehicles and follow directions towards the testing site.
NOTE: Patients who do not meet the requirements to proceed will be handed an informational packet with instructions for scheduling an appointment and asked to exit the site.
---
The Test
Please have identification ready.
The clinician will ask patients to roll down their window and tilt back their head.
The clinician will insert a long swab (Q-tip) into the back of one of the patient's nostrils.
The test is now complete.
The patient should roll up their window and exit the site.
The patient will receive a handout with further instructions.
---
Remember
Please be patient and be prepared to wait.
If needed, Porta potties and hand washing stations are available. Please wash your hands before and after use and immediately get back into your vehicle.
---