For general information about the CRISP Research Initiative, please see our main Research page.
Requesting Data from CRISP
In order to make a data request to CRISP, the Principal Investigator must be employed by an institution that has signed CRISP's Participation Agreement and is actively contributing data to CRISP. External organizations that wish to work with CRISP data must seek out a partnership with a CRISP participating entity. Researchers must complete the CRISP research data request form and send it to research@34.224.6.153 to initiate the data request process.  Click here to access the form 
Data Sources Available
At this time, CRISP plans to offer researchers of approved data requests access to the CRISP Clinical Query Portal and the CRISP Encounter Notification Service (ENS). Approved users will be provisioned credentials for access to the portal and ENS and will be able to access data on enrolled patients/subjects only.
Note that CRISP serves Maryland, the District of Columbia and provides technical infrastructure for West Virginia. Only signatories of the CRISP Participation Agreement (which covers Maryland and DC) are currently offering data for research purposes. All other external data sources are filtered for research access.
Process Overview
The graphic below summarizes the overall process flow of a data request and release. The exact process may vary depending on the specific data request.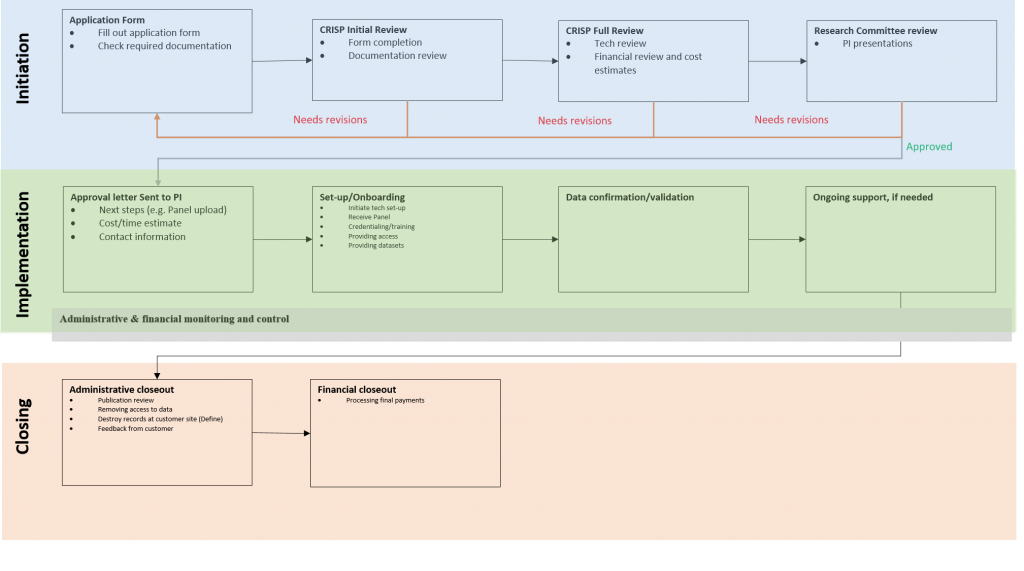 Costs for Research Access
CRISP will charge data requestors a fee for data access in a cost recovery fashion to ensure the sustainability of our support for research. These fees are subject to change and the costs below should be used as guidance only. Upon review, CRISP will provide an estimate of these costs and inform the Principal Investigator. As a guideline, we charge a blended rate of $155 per hour for custom data prep and extraction services; $85 per hour for credentialing and data access set up; $125 per hour for account management. All costs are subject to an annual inflation rate increase unless otherwise prohibited.
For requests involving basic access to the Clinical Query Portal or the Encounter Notification Service, we charge for initial set-up, annual maintenance, audit, close-out and access per individual user per service. While every study is different, we have generally seen that most studies can be supported for an average of $5,000 per year (higher in the first and last year; lower in interim years). This figure is impacted by the number of users, the number of years of the study, and the services requested. You can use the CRISP Research Initiative Cost Estimator to estimate your study expenses.

Click here to access the CRISP Research Initiative Cost Estimator
For More Information
Please contact CRISP at research@34.224.6.153 or Ross D. Martin, MD, MHA, Program Director, Research and Transformation at ross.martin@34.224.6.153 or 202-697-3077. Last updated 15 July 2019