Encounter Notification Service (ENS)
  Keeping You Connected To Your Patients
CRISP offers an application which allows medical personnel to receive real-time alerts when a patient has a hospital encounter. The application is offered in partnership with participating hospitals at no cost to ambulatory providers.
Customizable by practice, the CRISP ENS will send a notification to providers for active patients in the practice. Practices may choose which alerts are most relevant to them, such as: hospital admission, hospital discharge, or emergency room visit. Coupled with the CRISP HIE portal, participating physicians will be able to access relevant clinical documents to better coordinate care for their patients.
ENS PROMPT
Proactive Management of Patient Transitions
ENS PROMPT is a secure, web-based tool to help your organization better manage your notifications.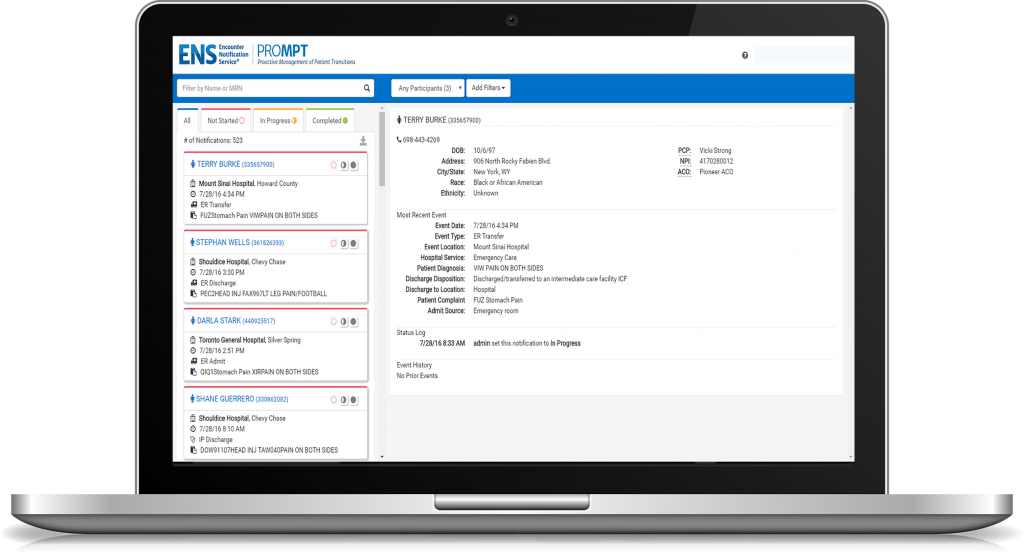 ENS PROMPT Features
Encounter alerts stream continuously in real time
FREE to all users with no user limit on organizations
Advanced, custom filter options, with the ability to save custom filters for easy reuse.
Download alert data in spreadsheet format
View data spanning the past 30 days
Search patients by name or MRN
Manage notifications by status – use ENS PROMPT's real-time tracking feature to mark patients 'Complete' and streamline workflow
View patients' readmission count
View patient's across multiple patient panels