CRISP Reporting Services (CRS)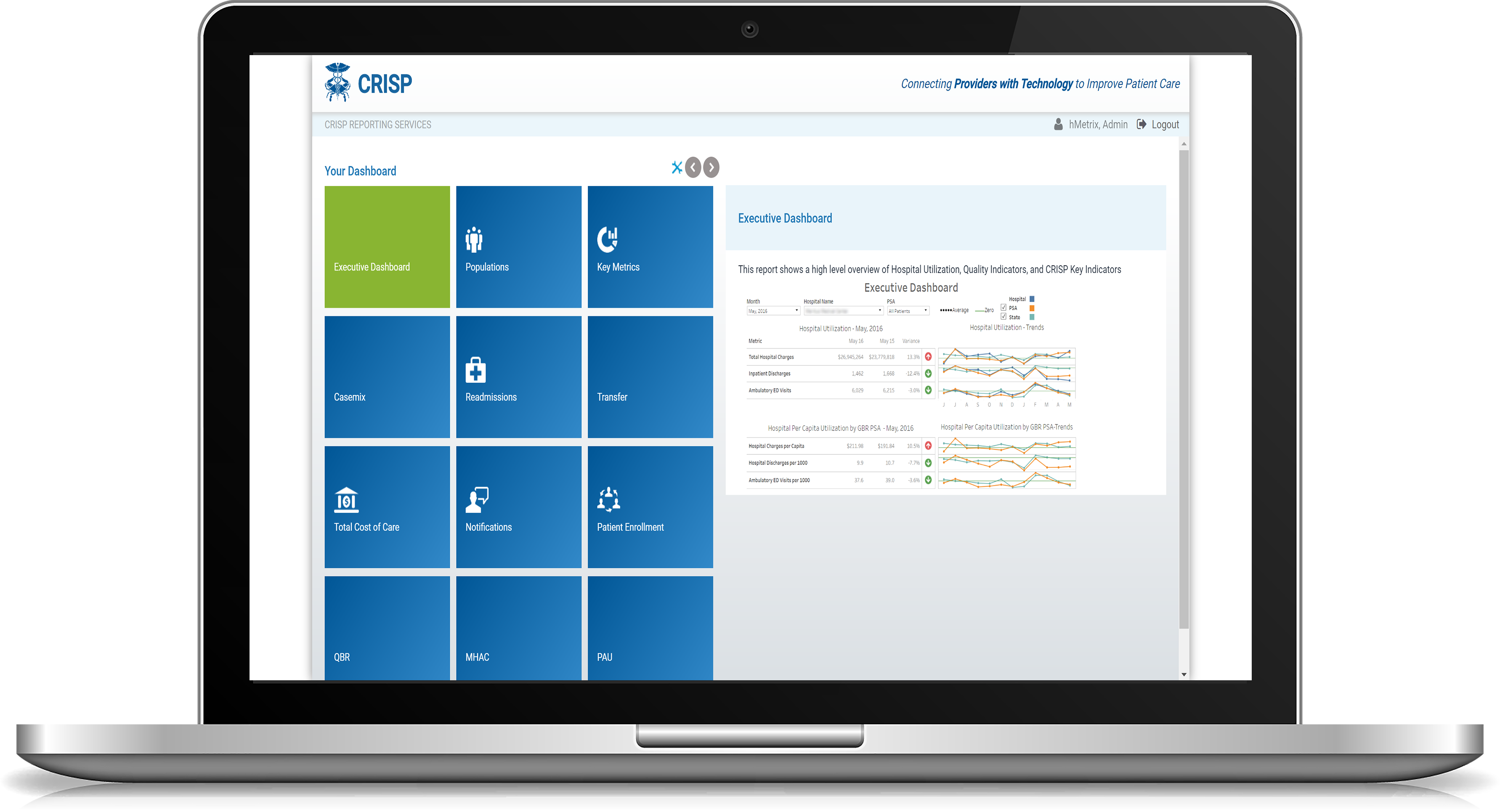 Introducing the New CRS Landing Page
CRISP has launched the new CRS landing page. Instead of two separate CRS Reporting sites – one providing static reports and the other providing interactive reports – there is now a single site where all reports are accessed. You now have access to the new, improved CRISP Reporting Services (CRS) Landing Page.
Why the Change?
Currently, the CRS reports are housed on two, separate sites – one providing static reports and the other providing interactive reports. Our goal is to make it easier for users to access these reports. There will now be a single site with all reports in one location for easier access. Using new technology, we've made it easier to access reports, with fewer clicks on a more user-friendly platform. Also, you can now customize your CRS Landing Page to your liking.
What is CRS?
CRISP Reporting Services (CRS) provides secure access to Maryland health care data and related analytics tools to assist health care organizations in improving patient care throughout the state.
CRISP partners with the Health Services Cost Review Commission (HSCRC) in order to provide a standard set of monthly reports to all Maryland hospitals. By linking hospital casemix data with unique patient identifiers, CRS is able to provide updated analysis of inter-hospital trends and utilizations. This, in turn, offers health care organizations reports aimed to support quality improvement, strategic planning, financial modeling, and other activities.
CRS uses multiple data sources to offer a unique perspective on readmission rates, potentially avoidable utilization, and other critical measures. CRS products are approved by the Reporting and Analytics Committee, a subcommittee of the CRISP Board, and adhere to best practices in privacy and security.
Who Can Have Access To CRS Reports?
CRS reports are available to partnering hospitals, public health departments, regional partnerships, and ambulatory providers. All prospective CRS participants must first be authenticated and confirmed through their partnering organization.
What Reports Are Available?
Report Types
| Population Health/Care Coordination Reports | Finance Reports | HSCRC Regulatory Reports |
| --- | --- | --- |
| Care Coordination Improvement Program | Executive Dashboard | Demographics Adjustment |
| CCIP Care Partner List | Pre/Post Analysis | Market Shift |
| Executive Dashboard | Total Cost of Care | Maryland Hospital Acquired Conditions (MHAC) |
| Medicare CCLF Data Reports | GBR PSA Total Cost of Care | Potentially Avoidable Utilization (PAU) |
| Hospital Panel Enrollment | Regional Partnership Cost of Care | Quality Based Reimbursement (QBR) |
| Patient Total Hospitalizations | | Readmissions |
| High Needs Patient List | | Transfers |
| Regional Partnership Analytic File by Month | | |